I know that some of you use additional controllers which can be programmed to emulate keyboard shortcuts and so on. A friend of mine would like to try this, but I'm lost at finding any of these in this forum. Could you recommend some or point me at a good source for this? I even don't know the exact term to search for, all I get is gaming stuff.
TVP 10.0.18, Mac Pro Quadcore 3 GHz, 16 GB RAM, OS 10.11, QT 7.7.3
---
Quicktime is DEAD. Get over it and move on !
---
Posts: 960
Joined: 01 Apr 2014, 07:07
Location: Paris, France
Contact:
A Wiimote is the best with tvpaint hehe
Storyboard, animation and design work :
http://nathanotano.tumblr.com/
As I'm highly interested in animation workflows, I'm open to scripting new TVP functions for individuals and studios. Please don't hesitate to contact me!
---
Could it be "modular controllers" ? Like these ones
https://palettegear.com/
I really don't know if it's worth the price and that good for illustration and animation (I mean workflow improvement VS cost)...
Jerome Lorin
Portfolio
(Win8/TVP 11.0.8-64 bits pro)
---
Nathan: do you use that?
TVP 10.0.18, Mac Pro Quadcore 3 GHz, 16 GB RAM, OS 10.11, QT 7.7.3
---
Posts: 231
Joined: 22 Dec 2010, 14:17
Location: Boston, MA
Contact:
I'm a terrible packrat of digital gear. I have a ShuttlePro but I never really liked the feeling of using it. The ergonomics of the device never quite felt right to me, and the buttons always seemed rather stiff. However it's a powerful device with good software for mapping the various functions.

I also have a USB dictation foot pedal that I've used for certain controls. I got it for free from a junk sale.
---
Posts: 1077
Joined: 23 Jan 2012, 22:08
Location: Offenbach / Germany
Contact:
I bought a Logitech G13 from ebay a few years ago to use it with After Effects (which I never really did)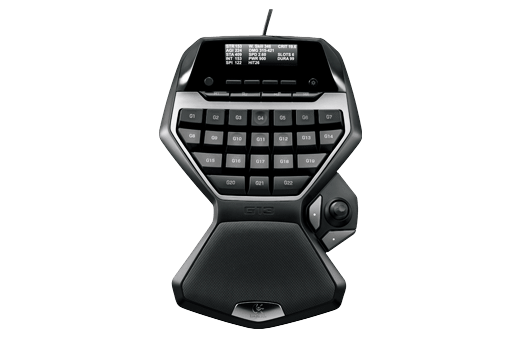 But then I started to use it with TVPaint, which worked out great, since you can assign a lot of shortcuts to it and don't need a lot of space.
In 2016 I switched to a Razor Orbweaver, which seems even nicer.
(G13 left, Orbweaver in the center)
Mac OS X 10.13.6 / TVP 11.0.8 PRO / Cintiq 22HD
Mac OS X 10.13.6 / TVP 11.0.8 PRO / Cintiq Companion 2
SCHWARZGRAU.COM
---
Thank you very much for all your suggestions, I've forwarded them to my illustrator friend.
TVP 10.0.18, Mac Pro Quadcore 3 GHz, 16 GB RAM, OS 10.11, QT 7.7.3
---
I used the Belkin Nostromo N52 Speedpad (obtained for $10 from BestBuy) for about ten years until the wheel stopped working (which I used for timeline controls), so I switched to a 'Razer Naga 2014' left-handed mouse with a lot of buttons on the side (purchased cheap, also, because the laser for cursor use is broken).

I think those tiny buttons on the Razer Naga mouse are too small to use comfortably.

I try to find a reason in almost every post to mention that if you're not using a detented wheel (such as a 'clicky' mouse wheel) to move between frames, you're missing out! I can't enjoy the digital animation process without it.

-David
I have used Wii / PS3 controllers through ControllerMate, also, but I prefer to use TVPaint in Windows (every release always performed better for me on the windows side of my iMac and Macbook).
---
Posts: 199
Joined: 02 Jul 2017, 09:04
Location: Moscow
Contact:
www.youtube.com/c/animationriver
MAC OS 10.12.6 , MacBook Pro (Retina, 15-inch, Mid 2014)
2.8 GHz Intel Core i7, 16 GB Memory , TVPaint PRO 11.0.8, 64bit
NVIDIA GeForce GT 750M 2048 Мb
Wacom Cintiq 27 QHD Touch - Wacom Intuos Pro 5 - driver version 6.3.29-6[/b]
---
schwarzgrau, your pic that you posted with the Razer Orbweaver showed a Nostromo with the Razer logo on the palmrest. I had known that Belkin revised the Nostromo once after the orange and black one that I had (N52->N52TE), but I didn't realize there was a Razer one, too. I since have picked one up via shopgoodwill.com ($21 plus shipping) and it is the best device of its kind that I've yet used. Thanks!
---
Posts: 1077
Joined: 23 Jan 2012, 22:08
Location: Offenbach / Germany
Contact:
The Orbweaver is the successor of the Nostromo, you can get it pretty cheap on ebay if you don't need the RGB-version. There is also the Razer Tartarus, which is even cheaper, but don't have mechanical keys.
Personally I'm kind of a keyboard nerd, so the feel of the Orbweaver is worth the price gap for me, but I guess the Tartarus is nice too.
Mac OS X 10.13.6 / TVP 11.0.8 PRO / Cintiq 22HD
Mac OS X 10.13.6 / TVP 11.0.8 PRO / Cintiq Companion 2
SCHWARZGRAU.COM
---